Isn't Reddit the best? Sure, you can quickly lose a few otherwise productive hours getting sucked into the abyss of political opinions, cat/dog videos or learning how you will die according to your user name (donut overdose, right here.) But, when you need advice on things like language learning programs, Reddit is solid for that, too.
In my search to find the best way to learn Russian, I have taken to Reddit for advice from those who have gone before me. Who better to consult about what works and what doesn't than people who have already started on the path to speaking Russian?
How do I Start Learning Russian?
Though most people would not answer this question with: "Reddit," I have found that it is a useful tool for directing you to the best Russian learning sites. To save you some time, I did some searching through the top posts in r/Russian for resources to help answer "how do I start learning Russian?"
This is a basic, albeit in-depth and lengthy, how-to-get-started post. It provides tons of valuable tips to learning Russian including the best ways to approach vocabulary, grammar and even boredom (because hey, it happens.). You can find an easy to follow and more in depth post at r/Russian full course, which provides even more links to Russian resources, as well as provided links to other free Russian sites like www.russianlessons.net and www.learnrussian.rt.com.
I was impressed with the number of resources available in this single post from help with learning vocabulary at Memrise, changing your keyboard to Russian with www.apronus.com or help in finding language learning buddies at places like My Language Exchange.
Overall, this is a great place to start learning how to learn to speak Russian online. Clicking on the full course takes you to the table of contents where you can begin your studies. I would highly recommend reading the full introduction before embarking on this journey.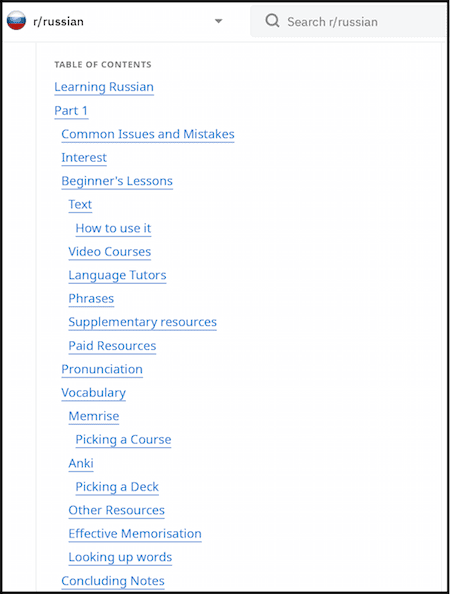 RussianEnthusiast has gone to great lengths to put together an archive of movies at www.russianfilmhub.com with subtitles. You can choose movies from different decades, genres and countries, and watch them for free. Subtitles are available in English, Italian, German, Portuguese and more.
Watching movies, reading books and listening to podcasts are a great way to break up the monotony of vocabulary and grammar studies day in and day out. Plus, with the English subtitles you can truly get an idea of what is happening and how words are being used and pronounced.
Reddit user, CodingCore, has doubts that Duolingo is the most effective way to learn Russian.
Picture 7
Advice varies from buckling down and taking a class at the university to using the desktop version of Duolingo. The majority of Reddit user advice focuses on using a variety of resources including podcasts, videos, learning games and guided lessons all together in order to compensate for gaps in all learning methods.
Reddit user, ioswarrior67 wants to SERIOUSLY learn to speak Russian.
Since he is young, most of his responses revolve around immersion learning including participating in an exchange program. The general consensus is no, Duolingo is not an effective way to seriously learn to speak Russian.
User erisdawn wanted to know the best way to learn Russian from her smartphone while admitting she learns better by sight and pictures.
She was given loads of information including the following from user XFactorjjw:
"There are apps that have images you can pair with words. That will help with your vocabulary, but for grammar and other nuances of the language you will need a textbook. Check out your local library. I'm sure they will have resources you can use.

Listen to Russian music, watch Russian movies on YouTube, read Russian books at any level. Kids books will be perfect because they have pictures, you can get some on Amazon with a KU subscription, or just torrent some due to your situation. Immerse yourself in the language and you will be surprised at how much you pick up."
Paid Russian learning sites including Pimsleur or a variety of books including Russian for Dummies and the New Penguin Russian Course are also recommended by different users. This further illustrates that learning preferences vary greatly among individuals. What works for some may not work for others, and it is always a good idea to use more than one learning source.
Cheesemuffin8 recommends first using Memrise to learn the Cyrillic alphabet and following up with RussianPod101, a paid Russian learning site that I feel is one of the most comprehensive programs out there.
Read our honest review of RussianPod101 here.
According to most comments from native speakers, many of these unique Russian words are not at all unique, unheard of, or mistranslated. This is a prime example of where Reddit is a valuable resource in filtering out misinformation:
After learning of these (not so unique) Russian words, I veered slightly off-track to a few posts about getting a tattoo in Russian. Surprisingly, more than one post came from people who did not speak a lick of the language and were putting their ultimate trust into the commenters.
I was impressed by the answers given to this English to Russian tattoo post when she asked if her translation was correct. I'll let you check out those comments yourself, but it seems most Reddit users kept her from getting a potentially embarrassing tatt!
Moral of this story: run it by Reddit before accidentally calling someone an uneducated old hag or permanently printing obscenities on your body.
Related: How Hard Is It To Actually Learn Russian?
In a meme most likely poking fun at Russian diminutives and the myriads of ways to say "cat," this post spiraled off into an unrelated but probably useful tangent about transliterations. This simple communication and explanation amongst users is yet another argument for Reddit being a useful tool to those learning Russian.
Finally, the comments circle back to all the different ways to say "cat," which is pretty much necessary given most of the world's affinity for cat videos.
Final Thoughts
So, what is the answer to our title question:
What is the best way to learn to speak Russian according to Reddit?
It's simple, really. There is no one-size-fits-all way to learn Russian. It is usually most efficient for Russian learners to use a variety of tools — and Reddit can be one of the best resources to help you find those tools.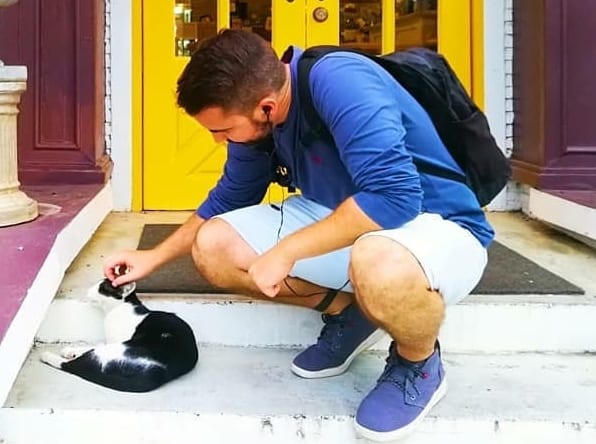 Michael has been an avid language learner and traveler for many years. His goal with LanguageTsar is to discover the most fun and effective ways to learn a language. He is currently learning Japanese, French and Indonesian.