Swahili, also known as Kiswahili, has official language status in both Tanzania and Kenya. It is also widely spoken in the Democratic Republic of Congo, Uganda and the Comoros Islands. Approximately 16 million people speak Swahili as their native language, while around 82 million speak it as a second language.
It is considered to be one of the easier languages for native English speakers to learn due to its logical pronunciation and spelling and its straightforward grammar. Swahili brought us the now-iconic saying, "Hakuna Matata", from The Lion King movie. It simply means "no worries."
If you are considering learning to speak Swahili, please read on for our in-depth review about Innovative Languages' SwahiliPod101.
SwahiliPod101 Review: Introduction
SwahiliPod101 is a language learning program designed by Innovative Languages. It offers you the convenience of learning to speak Swahili on your own time and at your own pace with its collection of video lessons and podcasts.
When you sign up for SwahiliPod101, you are automatically enrolled in a seven-day free trial period of the Premium subscription plan. No credit card is required for signing up, and you will always be able to access your free lifetime account
A few of the accessible features of SwahiliPod101 include:
Complete access to the lesson library collection

Free access on computer or mobile app

Quick daily lesson and word-of-the-day emails

Four subscription levels including Free, Basic, Premium and PremiumPLUS

Four expertise levels including Absolute Beginner, Beginner, Intermediate and Advanced

Voice-recording tools

Custom word and phrase lists

One-on-one instruction (PremiumPLUS subscription)

Ongoing assessments
SwahiliPod101 Pros
Pro #1: Comprehensive Lesson Archives
SwahiliPod101 offers hundreds of hours of lessons in both podcasts and videos. There are structured lesson plans to guide you through learning Swahili grammar and vocabulary. There are also quick lessons if you need to brush up on travel or emergency phrases. Whether you are starting as an absolute beginner or intermediate speaker, you will find one of the most comprehensive selection of lessons.
Pro #2: Native-Speaking Instructors
Only native Swahili speakers instruct the courses. Because of this, you are taught in legitimate dialects and about cultural norms. It is one of the most authentic ways to learn another language outside of a complete submersion experience.
Pro #3: On-The-Go Learning
You have the option to access your account on a computer or mobile app. You can even download the videos and podcasts to study when you are offline. This allows you to learn when it is most convenient for you and at your own pace. You can sneak lessons in while waiting in lobbies or on your daily commute.
SwahiliPod101 Cons
Con #1: Geared for Beginning Speakers
For those who are just learning to speak Swahili, SwahiliPod101 offers a wealth of new information. However, it is lacking for those on an intermediate to advanced level. If you are trying to enhance fluency, SwahiliPod101 is probably better used as a supplemental course to a more comprehensive program or class.
Con #2: Small Community
Swahili is not a popular language to learn and as such there is a very small community of other speakers with which to converse. It is difficult to find like-minded individuals to practice Swahili.
Con #3: Lack of Feedback
Unless you choose the more expensive monthly subscription programs, there is little feedback on your progress. The Premium subscription offers some assessments, but for one-on-one questions and feedback, you will need to splurge on the PremiumPLUS subscription.
SwahiliPod101 Features
Podcasts and Video Lessons
You will find loads of podcasts where the instructors speak slowly and give you time to follow along. Video lessons are not as common in SwahiliPod101 as they are in other Pod101 language programs. However, they often include the words being spoken flashing across the screen so you can match the sounds to the letters. It must also be noted that there is probably a bit too much English used in these lessons.
Lesson Transcripts
Lesson transcripts are available at the end of each lesson and can be printed out for later review. This allows you a way to review when you may not have access to the internet or cannot use your mobile device. They go over the lesson exactly as it was taught on podcast or video.
Dashboard
Your dashboard is your home base of the SwahiliPod101 program. Upon logging into your account, you will be taken to your dashboard. From here you can do things like upgrade your subscription, change your expertise level, and access different learning pathways.
Learning Pathways
There's a variety of learning pathways to get you started speaking Swahili. You can take the guided pathway that will take you on a structured course through the Swahili language and grammar. Other pathways are available including Swahili for Emergencies or Swahili for Travel for quick refresher courses. Though the pathways are abundant, it can be confusing to know exactly where to begin.
Learning Tools
You will find a lot of learning tools to supplement your lessons in SwahiliPod101. These tools include interactive flashcards, voice-recording options, and custom word and phrase lists. They offer a change of pace from video and audio lessons to help enhance vocabulary and pronunciation.
Who Would Benefit From SwahiliPod101?
Language-learning programs are simply not one-size-fits-all, so there are some individuals who will benefit more from subscribing to SwahiliPod101. They include those who:
excel at independent study

are highly self-motivated

need to supplement an advanced Swahili class or course

want to quickly learn some key vocabulary and phrases for work or travel purposes
Who Won't Benefit from SwahiliPod101?
On the other hand, there are some individuals who may not reap all the advantages of SwahiliPod and include those who:
are on a tight budget

require one-on-one help with learning

lack motivation
SwahiliPod101 vs. Competition
Duolingo Swahili vs SwahiliPod101
Duolingo offers a unique way to learn another language in just five minutes per day. Its game-like structure makes it a fun alternative to a more comprehensive program like SwahiliPod101. However, you will find very little in the way of feedback or in-depth language lessons. Still, we feel Duolingo Swahili would make a fun addition to another language-learning program as a supplement.
LiveLingua Free Swahili Course vs SwahiliPod101
LiveLingua offers some free online courses in Swahili courtesy of the FSI (Foreign Service Institute). While this course is designed to be worked on for over 30 weeks, it looks and feels like it was designed in the pre-internet age (see screenshot). That said, if "Free" is your budget, this is a great option.
Cost of SwahiliPod101
Access to all video and podcast lessons
Mobile app or computer access
Printable lesson transcripts
The Premium Subscription includes all the Basic Subscription features plus:
Ongoing assessments
Custom word and phrase lists
Voice-recording tool
Personal word bank
The Premium PLUS Subscription includes all the Basic and Premium Subscription features plus:
Personalized learning plan
Quizzes
One-on-one access to Swahili teacher
SwahiliPod101 Review Summary
The bottom line is that SwahiliPod101 is a comprehensive learning tool for those just starting out learning to speak Swahili. In our opinion, advanced learners may prefer something more in-depth, though there aren't currently many competitors. With available coupon codes, the price point makes a good sell for SwahiliPod101. We recommend the SwahiliPod101 Premium for most learners, and if you're really serious PremiumPlus is a great way to supercharge your learning.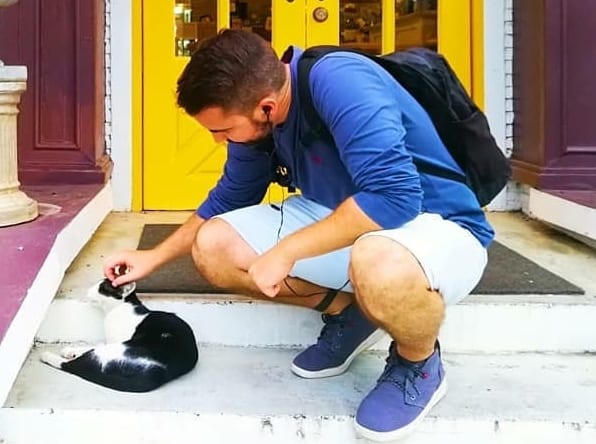 Michael has been an avid language learner and traveler for many years. His goal with LanguageTsar is to discover the most fun and effective ways to learn a language. He is currently learning Japanese, French and Indonesian.