This Rocket French Review is current as of October 21st, 2021, and covers the 2021 version of Rocket French.
With over 270 million French speakers worldwide, this is a great language to learn for travel, business or culture (read: French cuisine).
When learning to speak a foreign language, finding the right program is key to your success. There are tons of language-learning programs out there that claim to be the best, whether the most fun, fastest, or most comprehensive. If you are considering learning to speak French, check out our honest review for Rocket French, by Rocket Languages.
Rocket French Review: Overview
Rocket French is a language-learning program for desktop and mobile devices. There are three total levels of the course, and each level includes about eight modules. The lessons consist of French podcasts that can be downloaded. You can also find a variety of learning tools and activities to assist you with your learning. The complete Rocket French course includes:
Practice speaking, writing, reading and listening

Real world, practical conversations

Voice-recording to perfect pronunciation

Cultural lessons and language tips

Quizzes at the end of each lesson to test your knowledge
What we LOVE about Rocket French
Pro #1: Comprehensive Courses
If you complete the entire three levels, you could go from an absolute beginner to intermediate French speaker. The audio lessons are relevant to today's world including topics like relationships, sports and literature. There are over 120 hours of lessons for each level with learning games and activities to assist. There are also lessons that focus on aspects of French culture (see screenshot below).
Pro #2:
One-Time Payment
Many language-learning programs charge a monthly subscription fee. We like that Rocket Languages is sold by the course. Purchase Level 1, Levels 1 and 2, or all three Levels depending on how far you want to take your learning. Once you pay the one-time fee, you have lifetime access to the courses.
Pro #3:
Simple User-Interface
Upon logging into Rocket French, you will notice that there isn't much to it. Literally. After getting over the "is that all there is?" feeling, you will realize that everything you need is right there in one spot. It is super-easy to figure out where to start or continue your lessons, activities or quizzes. Other programs can sometimes be confusing to navigate.
What we do NOT LIKE about Rocket French?
Con #1: Lessons can sometimes feel Tedious
Though we felt the lessons were relevant and up-to-date with modern times, they can be a bit tedious and even boring at times. We understand that the instructors need to move slowly, and this is helpful. However, it can also be the reason your mind wanders down other paths while trying to learn. A highly-motivated learner might be able to push through this small detail.
Con #2: Voice-Recording Inaccuracies
Though recent upgrades have been made, the voice-recording is not always accurate. We feel that it can score you lower or higher than it actually should. Though this isn't a huge deal, you simply can't count on it for complete accuracy of your pronunciation.
Features of Rocket French
Dashboard
The dashboard is the first page you see upon log-in. Here, you can easily access your audio lessons, language and cultural lessons, Survival Kit, and reinforcement activities. You can also find your point balance — updated with each use — and find your spot on the leaderboard. This ranks you among the other French learners based on your points balance.
Audio Lessons
The audio-only lessons can be streamed or downloaded for later use. Each lesson lasts about 15 minutes and requires your participation in speaking. The words are at the bottom of the screen, so you can follow along and read what you are speaking. After completing your lessons, you can move on to the exercises to help solidify what you just went over.
Reinforcement Exercises
These exercises include Hear It!/Say It!, Write It! And Know It! This gives you one of the widest varieties for practice among all programs. You get listening, speaking, writing, and reading practice. However, there is little variation among the exercises within each level, so they can feel repetitive.
Survival Kit
The Survival Kit and review lessons go over pertinent information that you might require in a short time. These quick lessons cover things like the days of the week, emergency situations, and common travel phrases. These lessons are ideal for those who may need a quick refresher or even new phrases for travel.
Who Would Benefit from Rocket French?
Because of the nature of teaching yourself a foreign language, it is difficult to label one program as good for everyone. Those who would most benefit from a program like Rocket French include those who:
are highly motivated students

plan to become fluent-French speakers

need to know some quick phrases for work or travel in the near future
Who Would NOT Benefit from Rocket French?
On the other hand, there are those who may find learning to speak French more difficult this way. Individuals who might not benefit from using Rocket French include those who:
thrive in a classroom environment

require feedback from instructors

already speak French but want advanced learning
Rocket French Competiors
Rocket French vs. Pimsleur French
Pimsleur French is also a monthly-subscription language-learning program based solely on listening and repeating what you hear. Pimsleur claims that this style of learning is the most organic — just like how you learned your native tongue. The audio files can also be downloaded and used whenever it's convenient. There is little in the way of reading, writing, or grammar lessons with Pimsleur.
Rocket French vs. FrenchPod101
FrenchPod101 is a comprehensive program that features French podcasts, video lessons, and a range of learning tools to assist. Each lesson comes with detailed transcripts you can print out to go over when it's easiest for you. This program has four monthly subscription levels including a free option.
Rocket French vs. Glossika
Glossika is an audio-only program in which you simply listen to sentences and repeat what you hear. Like Pimsleur, it focuses on learning a language the way you learned your native language. Glossika does not spend a lot of time on cognates, or words that are similarly spelled in both French and English. Instead, the focus is on everyday language and important words you can use.
Rocket French Pricing
Level 1 — Beginner to Intermediate
Pay a one-time fee of $149.95 and you get instant lifetime access to:
Voice-recognition for 2,666 phrases
134 hours of lessons
34 interactive audio lessons
Survival Kit Bonus
Click here to save $50 on Level 1 and pay only $99.95
Level 1 & 2 — Beginner to Advanced
Pay a one-time fee of $299.90 and you get instant lifetime access to:
Voice-recognition for 5,807 phrases
244 hours of lessons
66 interactive audio lessons
2 Survival Kit Bonuses
Click here to save $50 on Levels 1 & 2 and pay only $249.90
Level 1, 2 & 3 — Beginner to Advanced
Pay a one-time fee of $449.85 and you get instant lifetime access to:
Voice-recognition for 10,004 phrases
370 hours of lessons
98 interactive audio lessons
3 Survival Kit Bonuses
Click here to save a huge $189.95 on Levels 1, 2 & 3 and pay only $259.90
**Enter Coupon Code ROCKETDEAL at checkout.
Rocket French Review Conclusion
All in all, Rocket French offers a comprehensive program for those just beginning to learn to speak French. While we might not recommend this as your sole language-learning system, it is definitely a great asset to have for French study. The lessons material is solid, however it can become a bit monotonous at times. That said, those who truly want to learn the language should be able to deal with this. You can find coupons available effectively lowering the price point as well, making it a good deal for a beginner French learner.
If you're unsure if it's for you, Rocket French offers a free trial here.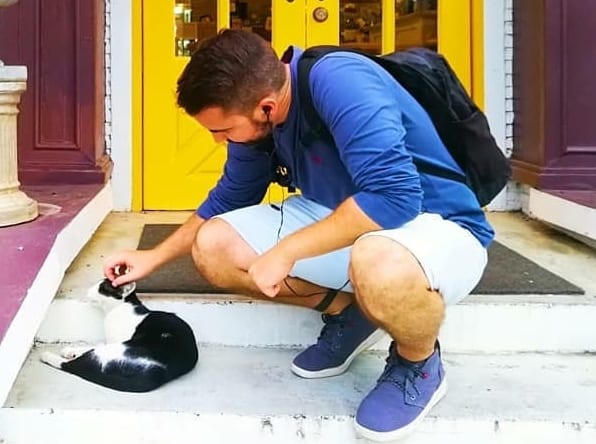 Michael has been an avid language learner and traveler for many years. His goal with LanguageTsar is to discover the most fun and effective ways to learn a language. He is currently learning Japanese, French and Indonesian.