I've been traveling and learning languages intensively for more than 10 years in which I've learnt over 10 languages. But Russian has definitely proven to be the most challenging.
So how did I finally manage to learn Russian? In this article I'll outline the materials I used and the scoop on how I really learnt Russian.
Firstly why learn Russian? In this video I explain the benefits that I've enjoyed from having learnt the Russian language.
Here are 7 tips for getting started with Russian:
1. Classes with a private tutor online (X2 hours/week)
2. Nail pronunciation first of all (one month)
3. Learn Cyrillic alphabet (one week)
4. Learn the first 500 words and phrases that are useful to me personally
5. Build in contact with the language and country before I arrive there
6. Purposely travel to the country itself and apply what I've learnt
7. Build on my base in Russian to learn the language over the long term
Private Online Classes
Where to find online tutors …
In order to start learning Russian before arriving in a Russian-speaking country, I typically took 2 hours of private tuition per week with a teacher that I found on italki.com. The classes were via Skype so I was able to take them no matter where I was located and I got really great personalized contact with the teacher (which I prefer one-to-one private tuition over group classes).
In the lessons with my italki teacher, we focussed on the words and phrases that are useful to me in my personal situation. Most language courses and lesson plans aren't personalized enough and end up trying to teach the learner vocabulary that is not relevant to their needs.
People who are traveling extensively or have location independence need to emphasize specific vocabulary for the situations that they are likely to encounter. For example, everywhere I travel to almost the first thing I need to ask for is the wifi code in the cafe, restaurant or apartment that I'm in. The word for 'socket' is important as I will need to find it in order to plug in my laptop. Focussing on these scenarios and not on standard templates is a lot more effective as they are tailored to my individual needs.
Pronunciation
Pronunciation is something that you need to get down right from the beginning so you need to prioritize this at the beginning. The course I recommend you use is the Mimic Method. You can watch my review of using it below.
1. The first step is to identify the sounds in Russian and how they differ from my native tongue (English) or the other languages that I speak
2. Next, I practiced making these sounds with a native speaker (my teacher from italki)
3. I recorded my pronunciation and reviewed it before every class for 10 minutes
Pareto Principle
By focussing on the most important words and structures, I implicitly apply the 80/20 rule of the Pareto principle. The principle states that as a rule of thumb approximately 80% of the effects come from 20% of actions that you undertake. By placing specific attention to these 20% of actions should bring about dramatically faster progress in learning Russian.
VOCABULARY
Many language learners recommend using spaced repetition systems like Anki for memorizing vocabulary. I am personally not a fan of flash card systems. Normally I use a mnemonic (personalized memory aid) if I'm struggling to remember an important word.
I find it more effective to deliberately apply the vocabulary and grammatical structures that I've learnt until they are internalized.
This way they are used in a personalized context. Context is king for remembering new words!
1. Listen to and read Glossika Russian daily for 20 minutes
2. Use 'Vocabooster Russian' to learn the first 600 words in Russian
3. Increase my comprehension of more complex vocabulary with LingQ
4. Make a deliberate effort to apply new useful vocabulary in the Russian Skype classes with my italki teacher
5. Update: We recently reviewed RussianPod101 and think it's pretty good for beginners and intermediate learners.
GRAMMAR
I am definitely not a grammar 'nazi' and as such don't get particularly excited about the prospect of learning about cases and syntax. With this in mind, I'm going to get a general overview of the language's grammar and pay attention to the most important structures only.
1. Begin by reading the Wikipedia page for the Russian language
2. Focus on the most important structures only in my classes with my Russian teacher by using subsitution drills
3. Pay attention to trends that are occurring in the language
A course I really like for intuitively improving my knowledge of the grammatical structures and vocabulary of a new language is Glossika and I will be using Glossika Russian daily for about 20 minutes during this period.
As I will not be located in Russian-speaking cities, I will have to build up some spontaneous natural conversation in Russian before I arrive there. This will include friends that I already have who can speak Russian and partaking in Russian cultural events outside the country.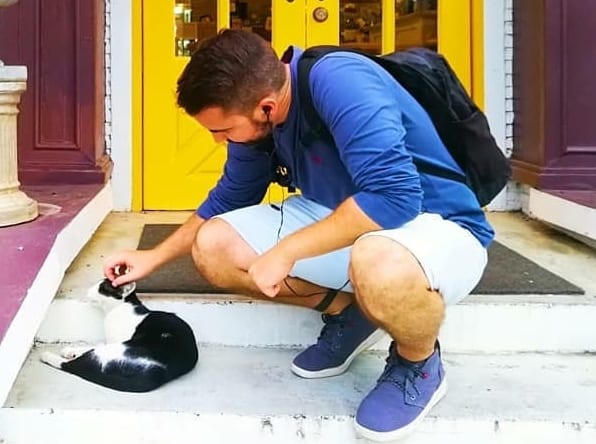 Michael has been an avid language learner and traveler for many years. His goal with LanguageTsar is to discover the most fun and effective ways to learn a language. He is currently learning Japanese, French and Indonesian.