Hello Pal is a language partner app that I have been using lately for both languages that I already know like Russian and languages that I don't yet, like Chinese (there are more than 50 languages to select from). The app is free to download and comes with an array of great features, such as translation, phrasebooks, audio pronunciation and games.
Hello Pal claims that the main purpose of this app is to bring the world closer together by allowing people to easily meet and communicate with others around the world. As I am not a fan of language exchange websites or similar app-based platforms in general (I found it difficult to meet people there who I was genuinely interested in speaking to in the past), I usually treat such claims with a healthy dose of skepticism.
So does Hello Pal buck the trend of such apps disappointing me or does it have something new and exciting to offer the language learner or traveler?
Interface
The interface is easy to use and intuitive. The search box allows you to search for language partners by language spoken, nationality, current country, gender and age.
The search results produce a list of profiles for potential language partners for you to choose from. You can read some background information about the person and browse through their photos.
If you're having any trouble figuring out how best to use Hello Pal, you can watch their instructional tutorials in order to learn all about it. You can access the tutorials online or a shorter text version via the app itself.
Functionality
Now onto the functionality of the interface. The app has some great features that I really found cool.
These include a two-way dictionary, voice messages, phrasebook and pronunciation of the words in the target language. Therefore, the app has largely the same functionality as Whatsapp and Facebook chat but also supplements this with some terrific language learner add-ons.
One of these add-ons is the phrasebook function. This was great for me with Chinese (which I don't speak yet). I was able to have very basic introduction conversions with Chinese users, as well as, listening to the audio and reading how the phrases are pronounced.
Strengths
1. Live chat with native speakers – with Hello Pal you get to immediately speak the target language with native speakers from all over the world which is clearly great if you are finding it difficult to find native speakers near where you live.
2. Integrated Phrasebooks – these were very useful for me with Chinese speakers as I was having my very first conversations in Chinese. The phrasebooks are limited so I quickly had to switch to use the translation feature.
Still this allowed me to have basic conversations in Chinese (and listen to the audio of how the phrases are pronounced) without having learnt any Chinese previously.
This certainly got me motivated to learn the basic introductions which of course are repetitive and easy to remember after a few conversations.
The normal caveat applies with respect to language exchanges in general – there is a lot of trial-and-error to finding people that you are genuinely interested in conversing with as the selection criteria are still quite limited. That said Hello Pal allows for more information and photos than other similar apps that I used.
3. Time utilization – the app is a useful time filler when if you are waiting around, like for 5 minutes for a friend to show up – with Hello Pal you can chat to someone in your target language on the other side of the world.
Weaknesses
1. The typical reservation I have about language exchanges – they are free in terms of money but not in terms of time but are useful if done effectively – Hello Pal is better than the other apps in this niche that I've reviewed in that there's at least information about and photos of the potential language partners.
2. No video chat option – this would be a useful addition to the app for communication and cultural exchange as language partners could show in real time what it is like in their countries – which is part of the company's mission.
3. Corrections by native speakers – there is no integrated correction feature which would be particularly useful during the conversations. Such a feature would allow you or your language partner to highlight and correct each other's mistakes.
Conclusion
So would I recommend using Hello Pal?
I think that Hello Pal is really worth downloading if you are looking to chat with native speakers in your target language. It is the best app in terms of functionality that I have so far tested in this niche. It's free so there is no cost to trying it out and seeing if it also works effectively for you!
The company behind Hello Pal plans to release more advanced features in the near future so the app certainly has a lot of promise. More information about the app is available at www.HelloPal.com.
Learn Languages Like an Expert!
Learn Languages with LingQ!
Buy the Glossika Mass Sentence Method!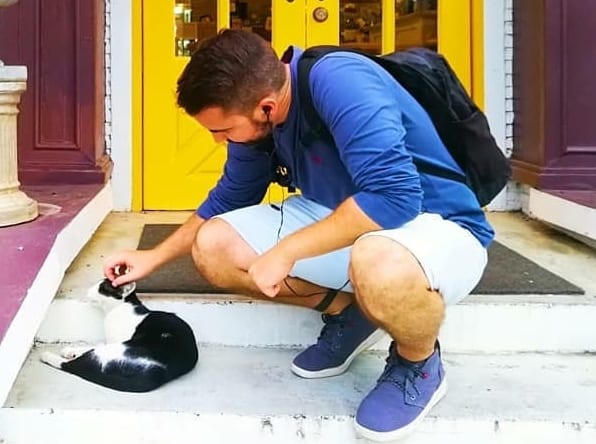 Michael has been an avid language learner and traveler for many years. His goal with LanguageTsar is to discover the most fun and effective ways to learn a language. He is currently learning Japanese, French and Indonesian.