Zoals je kunt zien in de video op deze pagina, heb ik een cursus Nederlands gedaan op de universiteit van Utrecht. Ik had een uur per week les voor een periode van drie of vier maanden. Na deze cursus heb ik veel zelfstudie gedaan, en dit heb ik gecombineerd met het oefenen van de taal met Nederlanders.
Ik heb veel Nederlands gesproken in een café waar de mensen ook daadwerkelijk alleen maar Nederlands met mij wilden spreken.
Een paar jaar geleden ben ik ook weer begonnen met het nemen van Nederlandse lessen via Skype met als doel om mijn Nederlands op te frissen. Dit is een leerstijl die ik andere mensen zeker aanbeveel vanwege de lage kosten, flexibiliteit en gemak. (Je hoeft je huis niet uit voor een les)
Ondanks wat vaak wordt gedacht (dat wil zeggen, wat andere buitenlanders zeggen), Nederlands is niet echt een harde taal voor een Engels als moedertaal te leren als:
1. Nederlands en Engels beide Germaanse talen zijn
2. Veel woorden in het Nederlands afgeleid zijn van andere talen als Frans en Latijn
3. Nederlands geen naamvallen heeft zoals in het Duits, dit maakt het relatief eenvoudiger
4. De klanken van de Nederlandse taal zijn soms verwant aan die van het Engels, ook de verschillen in intonatie zijn niet al te groot
Een obstakel voor buitenlanders om Nederlands te leren in Nederland, is vaak dat Nederlanders snel omschakelen naar het Engels wanneer zij horen dat de persoon waarmee ze spreken met een buitenlands accent spreekt. Deze persoon kan zich daardoor erg onzeker gaan voelen (vooral in het begin) en kan daardoor minder vaak de moeite gaan nemen om Nederlands te spreken.
Manieren om dit probleem te voorkomen:
1. Zoek een café, bar, restaurant or winkel waar de mensen bereid zijn om Nederlands te spreken met je, en waar ze waarderen dat je hun taal probeert te leren. Wat ik zelf deed, ik ging drie of vier keer per week, naar een café om te Nederlands te oefenen met het personeel en met de klanten voor een uur. Dit was een erg goede manier om mijn Nederlands te verbeteren.
2. Leg de Nederlandse persoon uit dat je naar hun land bent toegekomen om de taal te leren en vraag of dat ze je alleen maar willen antwoorden in het Nederlands. Dit kost echter wel veel energie om dit steeds weer te blijven vragen.
3. Zeg dat je geen Engels verstaat en dat je moedertaal een taal is die Nederlanders niet verstaan, bijvoorbeeld Ests of Hongaars. Op deze manier moet men wel Nederlands gebruiken om met je te kunnen communiceren. Probeer dit uit en laat me weten of dit ook voor jou werkt.  (Je kunt me bereiken via mijn website of YouTube kanaal.)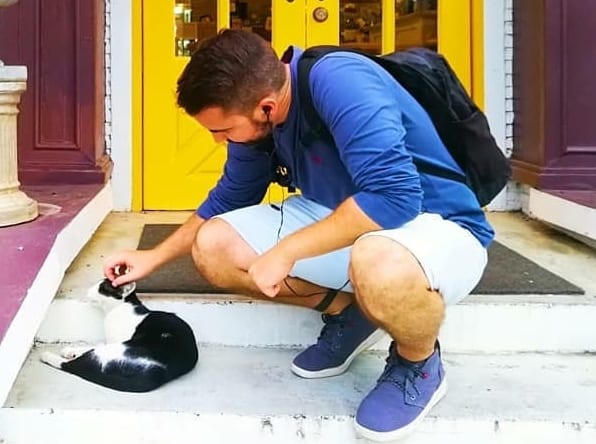 Michael has been an avid language learner and traveler for many years. His goal with LanguageTsar is to discover the most fun and effective ways to learn a language. He is currently learning Japanese, French and Indonesian.