Busuu has an intriguing name being the name of a near-extinct language in Cameroon. Busuu, the company, on the other hand is world's largest social network for language learning – the polar opposite in terms of daily users to its namesake.
Busuu offers its courses as a smartphone app and as a web based desktop platform. Their products come as freeware and also as a premium version priced at €10/month if taken for six months. Currently, the courses are available for learning English, French, Spanish, Italian, German, Portuguese, Chinese, Polish, Japanese, Arabic, Turkish and Russian.
I chose the free version of the Brazilian Portuguese desktop and smartphone app versions to review Busuu. The premium version costs €15/month but can be as cheap as €4/month if you purchase for 24 months upfront. So what's my verdict?
THE METHOD
The courses say that they go from beginners up to B2 which is an intermediate level on the Common European Framework of Reference for Languages (CEFRL). The lessons introduce new words with images, in context and pronunciation from a native speaker so the course is essentially has a flashcard based system. Written production (and even short audio recordings) is then corrected very quickly (at least for Portuguese) by native speaker users of Busuu. This way you get feedback on your output.
The course also has a gamification element with points (called 'berries') being gained depending on your performance and assisting other learners by correcting their assignments. The points gained can then be used to gain special discounts on premium membership or to purchase animated gifts for your Busuu garden on the platform.
Amongst other services, the premium content gives access to grammar explanations and unlimited access to all languages.
STRENGTHS
1. Corrections by native speakers – this worked very well for Portuguese at least. The corrections were prompt and accurate with feedback. A weakness here sometimes could be that other learners are rewarded by quantity and not the quality of the corrections.
2. Time utilization – as Busuu has a smartphone app, it was a great time filler when I would have otherwise been twiddling my thumbs.
3. Live chat with native speakers – the interface also gives you the possibility to connect with native speakers of a language. This is obviously a good feature for helping you get interaction in the target language but the normal caveat applies with respect to language exchanges in general – it's hard to find people that you are genuinely interested in conversing with if the only criterion is 'languages spoken'.
WEAKNESS
1. Mnemonics – I didn't find that the images associated with the word were are noteworthy as in some other similar language products like Memrise, for example (although personalized images work even better).
2. Not so intuitive – The content was not really accumulative and felt a bit random. I didn't think I was picking up the grammar structures implicitly or otherwise.
3. Low amount of vocabulary – the course is ultimately not that long so the amount of vocabulary is limited and covered a large range of topics that I would rarely need to use.
4. Lack of cultural information – There isn't much of it in the Portuguese course.
5. Voice recognition – not provided so no analysis of your pronunciation.
CONCLUSION
So would I recommend using Busuu?
While Busuu had some positive elements, overall I was disappointed by my experience. I found it easy to use and it definitely helped me to learn some new things in Portuguese but it was not gripping as an interface or a course. If you're a beginner to the language then I think it's worth playing around with the freeware version of Busuu but it seems that more advanced learners would struggle to get significant value from using the course.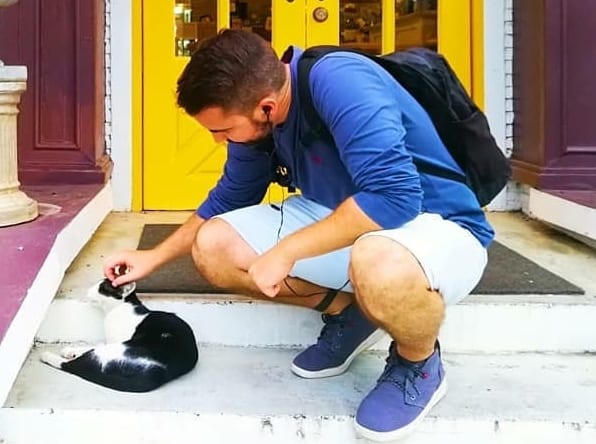 Michael has been an avid language learner and traveler for many years. His goal with LanguageTsar is to discover the most fun and effective ways to learn a language. He is currently learning Japanese, French and Indonesian.