You want to begin studying French, but finding the best podcast to learn French can feel overwhelming with the vast number of programs available. Today, we are going to discuss the benefits of using Podcasts for learning a language, and help you choose the best podcasts to learn French!
What is a Podcast?
Podcasts are simply digital recordings that can be downloaded to individual devices. Originally, they were used for those with niche interests to share information with others. Now, podcasts are available for nearly every major news networks, radios, classrooms, and yes, even for learning to speak French.
Why Choose the Best Podcast to Learn French?
There are many benefits to choosing French-learning podcasts. Because you can download them to your personal devices, you can listen to them in the car, on the train, or in any other downtime situation. They offer the flexibility of enhancing your studies anywhere you go and at your own pace. A few other benefits of podcasts include:
You set the learning pace by listening as often as you need and controlling the flow of information
They are easy-to-use and oftentimes, free
They can be quite entertaining
They have proven to be an effective learning mechanism
Podcasts are easy to add to an existing learning program
The best French-learning podcasts are professionally recorded and include transcripts
15 of the Best Podcasts to Learn French
Of course, we would never suggest a new learning method without giving it a thorough review. Up next, will find the 15 best French-learning podcasts available. Read on!
1. Daily French Pod
Best French Podcast for Intermediate Speakers

Daily FrenchPod podcasts are all free and produced in Paris by instructors who studied at French universities and hold a master's degree in French as a foreign language. Each podcast begins with a 30-second advertisement, and then the instructor introduces him- or herself and explains what will happen next.
The instructor reads the topic sentence at a normal speed. After that, he will break down the sentence into smaller sections, further enunciating the words. He will also give alternative uses and examples for the words.
Both the French and English versions of the topic sentence are displayed on your desktop screen so you can quickly refer to what is being said and its meaning. There are new topic sentences added each day and they are about five-minutes long.
Best French Podcast for Variety of Learning Methods
FrenchPod101 offers users a free account with the first three lessons in each learning pathway included. To get more involved, you will have to upgrade to a paid subscription. There are four levels of expertise, so no matter where you are at with your French, you should find an appropriate level to start.
There are sometimes up to three instructors, and between their banter, it can take up to two and a half minutes to begin a lesson. They first speak at regular speed and then slow it down adding personal notes or stories to the lessons. Transcripts are available on higher, paid levels.
3. Coffee Break French
Best French Podcast for Absolute Beginners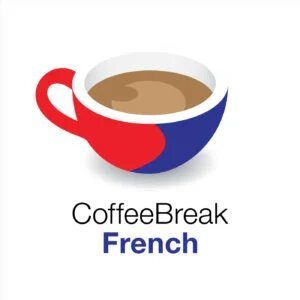 Coffee Break French is a paid program featuring "Mark" as the instructor and "Anna" along with you as students. Imagine talking to an old friend in a coffee shop while learning French.
Designed for newbies, this program offers 40 lessons with extensive lesson notes that each last 15-20 minutes. It is not your standard "listen and repeat" learning system. Instead, it offers a solid pedagogy in French covering common scenarios like travel, buying things, ordering food, checking into your hotel, and handling emergencies.
4. News In Slow French
Best Podcast for Up-to-Date News in French
News in Slow French is just what it says it is—the news in slow French. Intermediate and advanced speakers can pick up nearly anywhere in the program and get along just fine. Beginners can start with the G.U.T.S. (Get Up To Speed) course designed to solidify the basics for beginners.
Podcast subjects vary greatly and include politics, world news, science, technology, arts, culture and trending news. Each podcast moves at a snail's pace—even the intermediate and advanced ones. Transcripts are listed below the podcast so you can easily follow along. There is a free seven-day trial period.
5. Learn French by Podcast
Best French Podcast for Self-Study
Learn French by Podcast has two parts for each lesson; a podcast and a lesson guide. Both can be downloaded to your personal devices. The lesson guide contains the full transcript of the audio file, exercises to try on your own, detailed language analysis, and a comprehensive vocabulary list. There are a total of 202 lessons at the current time.
Each lesson costs one credit and each credit cost one dollar. You can purchase all 202 lessons for $100. Once you have purchased your credits, you can begin downloading lessons. You can start out as a beginner, intermediate or advanced speaker and the amount of English used is reduced on the higher levels.
6. Français Authentique
Best French Podcast for Advanced Learners
Français Authentique is run by Johan Tefkak. There is a paid monthly subscription as well as a free podcast. Subscribers have access to discussion groups along with their online courses. Only French is spoken in the podcasts.
Each podcast lasts about 15 minutes and centers upon a single French phrase or expression which Tefkak breaks down and slowly explains. He also gives examples of how the phrase can be used. Ideally, this course is for those who already know some French and want to learn more with idioms, vocabulary and enhance fluency.
7. One Thing in a French Day
Best French Podcast for Listening Comprehension
One Thing in a French Day is Laetitia's, a French woman in Paris, thrice-weekly podcasts about things happening in her day. Each podcast is just three to five minutes long and completely in French. She speaks at a regular speed, but her enunciation is on par with French course instructors'.
This podcast is ideal for those who already speak some French and want to become more fluent. You will also grow your vocabulary and enhance listening comprehension. If you sign up for her monthly newsletter for just $6, you can get transcripts of all her podcasts.
8. Learn French with Alexa
Best French Podcast for Building Vocabulary
No, it isn't the same Alexa that turns your lights on and off. Our Learn French with Alexa is a native-speaking French teacher, and likewise, her podcasts feel like you're being taught by, well, a teacher. She guides the listener, asks you to repeat when necessary, and announces what will be coming up.
There are about 15 free podcasts and listening to the rest will require a paid subscription. However, your subscription includes lessons, learning materials, and other resources to help you learn French.
9. Easy French Poetry
Best Podcast for Poetry and French Culture Lovers
If you are already speaking some French and adore French poetry, then Easy French Poetry is a great way to tie these two together. Unfortunately, you will not find much in-depth French here, so we would mostly recommend this as a fun hobby when you have time.
The podcasts consist of reading a French poem very slowly twice. That is it. You can find the transcripts on the website if you would like to read along. The very nature of poetry and the use of wordplay is another reason this should be considered an "extra" in the course of learning.
10. Journal en français facile
Best Podcast for French Radio
Journal en français facile is a podcast that airs over Radio France Internationale. It is a newscast in which native French speakers talk at regular speed. It can sometimes prove difficult for even advanced speakers to keep up.
However, the newscasters do a great job of enunciating and they use up-to-date vocabulary. The best thing is that the podcast is free and you can download transcripts to help with translation issues later.
11. French Voices Podcast
Best Podcast for French Conversation
French Voices Podcast is a series of interviews with various people by the host, Jessica. Each interview is briefly introduced and summarized in English and the questions and answers are completely spoken in French.
You can listen to the podcast for free for interesting information you may not have otherwise heard. Jessica interviews a French grad student studying magnets, a French driving teacher, and a French physicist. If you would like to purchase transcripts, they are available on the website.
12. Je French
Best Podcast for French Grammar
Je French offers beginners a solid foundation of French vocabulary, common expressions, verbs, nouns and pronunciation. All lessons are taught by native French speakers, so you are hearing the authentic language.
Lessons are taught by reading French sentences aloud and translating them into English. Then the instructors speak in English with tips or to tell you how the phrase you learned might be used. Basic lessons are free podcasts, and if you want to move up to weekly lessons, you must have a paid subscription.
View on Apple Podcasts
13. One Minute French
Best French Podcast for Those who are Pressed for Time
The name is a bit deceiving as One Minute French actually consists of podcasts lasting an average of two to four minutes. Don't let that fool you as they pack quite a punch in that short time.
Pierre-Benoit takes you through the basics of learning to speak French in these quick lessons. You will learn basic information to converse while on holiday or on a business trip. With such fast lessons, there is truly no excuse NOT to learn.
14. Learn Out Loud: French Survival Podcast
Best French Podcast for Those who like to Prepare
Learn Out Loud: French Survival Podcast offers users a quick way to learn the basics in life or death situations. If you are pressed for time but will be in a French-speaking country, this podcast is a must.
During the quick podcasts, the instructor repeats each phrase a number of times to help you drill it into your memory. He will also break it down and help you to enunciate the words just like a native speaker would. You will also learn simple phrases like "Thank you" and "You're Welcome."
Learn Out Loud: French Survival Podcast
View on Apple Podcasts
15. InnerFrench
Best French Podcast for Those Seeking Fluency
InnerFrench is hosted by Hugo, and he makes it quite clear that he wants you to think in French as a key to learning it. He is very easy to follow and offers two free 30-minute podcasts per month.
Hugo offers insight into French culture, mentality and daily life. You can find free transcripts available to help you follow along.
---
There you have it! The 15 Best Podcasts to Learn French. Try a few out and let us know which one was your favorite.