This Rocket Italian Review is current and up-to-date as of October 23rd, 2021, and covers the 2021 version of Rocket Italian.
One of the Romance languages of the Indo-European family, Italian is spoken as a first or second language by over 66 million people worldwide. Though mostly spoken in European nations, the US also has a large number of Italian speakers. Learning to speak Italian can broaden your horizons and open doors for business and personal experiences.
Considering the financial and time obligations of learning to speak Italian, finding the best program out there should be a top priority. Unfortunately, with nearly every online language-learning course claiming to be the best of the best, choosing one can still be tricky. We have intensely studied with one such course, Rocket Italian, to give you an honest review and help you decide if this program is right for you.
Rocket Italian Review Overview
Rocket Italian is just one of several programs offered by Rocket Languages. They are all built around three learning products including interactive Italian podcast lessons, language and culture lessons, and reinforcement tools. According to Rocket Italian, using their system daily can help you quickly learn to speak and understand this useful language.
A few features included when you sign up for Rocket Italian include:
Three courses from Beginner to Advanced

Up to 366 hours of audio lessons

Voice-recognition practice

One-time payment option, no subscription

Up to 88 Italian language and culture lessons

Up to three bonus Survival Kits

Instant access for life

60-day money-back guarantee
Rocket Italian PROS
Pro #1: Reasonable Price with 60-Day Guarantee
Along with Rocket Italian's reasonable price for each course, you can get discounts for purchasing more than one course at once. In addition, you will often find coupon codes and other promos to further lower the price, making Rocket one of the most affordable programs out there. If you don't love it, no big deal—there is also a 60-day money-back guarantee!
Pro #2: Google Web Speech API
Rocket Languages has upgraded its voice-recognition software to Google Web Speech API. This means a much more accurate pronunciation "grading" system for you. Pronunciation is key to being able to speak with other Italian speakers, and Rocket has a leg up on other programs with this advanced feature.
Pro #3: Learn as you Choose
You can choose to learn in a linear fashion similar to what you would do in a classroom setting, or you can choose to learn specific subjects as you need them. This allows you the freedom of picking up phrases that are important to you at any specific time. For example, if you have an upcoming business trip, you can quickly learn some travel phrases.
Rocket Italian CONS
Con #1: Limited Grammar Rules
Rather than learning and having to memorize grammar rules, most of it is demonstrated in lessons. Though some people may find this approach to be easier, we think that this can hinder those who plan to become fluent Italian speakers. Eventually, these rules must be learned, or one simply cannot advance in the Italian language.
Con #1: Little Content for Visual Learners
Because there are only audio lessons and podcasts, visual learners may feel the content is lacking. You can find some reinforcement tools like flashcards that would appeal to the visual learner, but for the most part, Rocket Italian is situated for audio learners.
Rocket Italian Learning Features
Interactive Podcast Lessons
Each lesson is taught by one native-Italian speaker and another instructor who speaks Italian. Each set of lessons is based on a particular theme, and corny jokes aside, the hosts are quite engaging. Themes include topics such as tourism, relationships, pop culture and business. Additionally, you have the option of only listening to the Italian parts of the conversations as you progress.
Language and Culture Lessons
Along with each podcast is a language and culture lesson that explains things like polite responses in certain situations. You will learn the typical exchanges people make during common daily routines like shopping, going to the post office, or banking. Grammar is touched upon in these lessons to a small degree.
Reinforcement Activities
Along with the updated voice-recognition and flashcard activities, you will find Saved Vocabulary lists. Essentially, you can type nearly any word into a search bar and find out its Italian counterpart. You can save these words for quick reference later or add them to your flashcard deck for future practice.
Built-In Gaming
You are automatically a part of the Rocket Italian "game" upon signing up. You gain points for the amount of time you put into learning and advance through various levels. There is a leaderboard in which you can compare your progress to that of other users. This competitive angle helps you stay motivated to keep learning to speak Italian each day.
Who is Rocket Italian For?
Rocket Italian can be an ideal program for both serious and casual students. It is ideal for those who may not have access to in-person learning due to location or accessibility. Additionally, Rocket Italian can be a huge supplement to older kids and teens who are taking an Italian class in school.
Who is Rocket Italian NOT For?
On the other hand, Rocket Italian will not appeal to everyone. Strong visual and tactile learners may have a hard time keeping focused on the podcast lessons. Those who prefer a classroom environment may also find it difficult to motivate themselves to self-teach on a daily basis.
Rocket Italian Alternatives
We did mention there were other programs out there claiming to be the best, and we would be remiss in this review without briefly covering them.
Rocket Italian Compared to Pimsleur Italian
Pimsleur Italian is completely audio-based consisting of Italian podcasts. There are two monthly subscription levels that offer 30-minute lessons you can listen to at any time. The premium level also offers learning tools like flashcards, interactive games, and role-playing tools. The Pimsleur Method is based upon listening and repeating what you hear to learn a foreign language—just like you did when learning your native tongue.
See our Review of the Pimsleur Method here (Pimsleur Spanish)
Rocket Italian Compared to ItalianPod101
ItalianPod101 offers both podcast and video lessons along with learning tools for a monthly subscription fee. There are four different subscription levels including a free lifetime account with varying features including one-on-one instruction, voice recognition, interactive quizzes, and ongoing assessments. Podcasts and learning tools are similar in structure to Rocket Italian.
Read our Review of ItalianPod101 here.
Cost of Rocket Italian
As mentioned, you only pay once for Rocket Language's three courses. Each course is $149.95 and purchasing all three at once will yield a discount of about $190. Courses are designed in levels from beginner to intermediate to advanced speakers. You have the option to purchase Level 1 only, Levels 1 and 2 only, or Levels 1,2, and 3.
Additionally, if you choose to purchase all three levels at once, you can break up the cost over a six-month payment plan. Once you purchase a level, you have instant access to that level's content for life, unlike subscription-based programs.
Rocket Italian Review: Final Thoughts
Is Rocket Italian worth it? Though we cannot confirm that it is the best program out there, it does offer a good range of content at a fair price—especially when you come across promo codes and special discounts. We think this program is ideal for those who learn well by audio and can take their learning on-the-go. Rocket Italian is especially ideal for those who may want to supplement a high school or university course.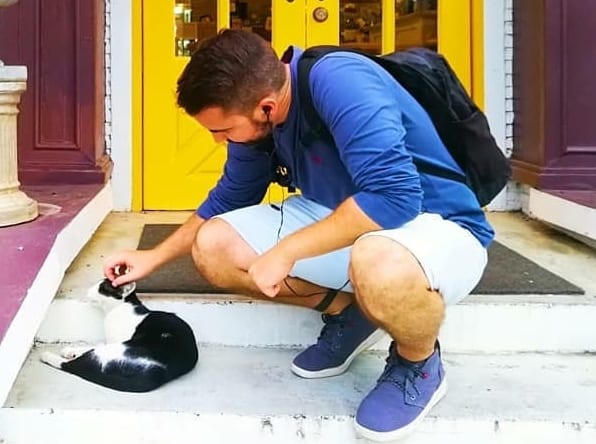 Michael has been an avid language learner and traveler for many years. His goal with LanguageTsar is to discover the most fun and effective ways to learn a language. He is currently learning Japanese, French and Indonesian.