This Rocket German Review is up-to-date as of October 21st, 2021.
Learning to speak German, with its four cases, can prove to be an intimidating venture. Choosing the right learning method is essential, especially if you strive to speak German fluently. When considering the sheer number of online language-learning programs, choosing just one can be completely overwhelming.
In order to make it easier on you, we've spent considerable time studying German using Rocket German, by Rocket Languages. The following is our in-depth and honest review to help you decide if Rocket German is the right program for you.
Rocket German Review Overview
The Rocket German program offers three distinct parts including audio podcast lessons, language and culture lessons, and reinforcement activities. The system is broken into three levels from beginner to advanced speaker. Each level offers hundreds of hours of lessons, thousands of voice-recognition phrases, and bonus survival kits. These survival kits are quick vocabulary and phrase lessons with activities geared for certain activities like dining in a restaurant.
Additional features included with Rocket German include:
Up to three expertise levels

Up to 99 German podcast lessons

Up to 91 culture and language lessons

German phrases with voice-recognition practice

Reinforcement tools like custom flashcards and word banks

Immediate access for life upon payment

One-time payment, no monthly subscription fees
Things we LOVE About Rocket German
Pro #1: Variety of Learning Tools
In addition to audio, cultural and language lessons, you will find a variety of learning tools to reinforce what you cover in those lessons. These include the activities called Write It, Hear It, Say It, and Know It! This allows you to practice all aspects of learning to speak German including writing, listening, speaking and reading. There are also flashcard decks that can be customized with words you prefer to practice more. Additionally, there is a leaderboard to compete with other learners.
Pro #2: Upgraded Voice-Recognition and Lessons
Many of the audio lessons have been revamped for 2021 making them quite a bit more relevant and interesting. Additionally, Rocket German upgraded its voice-recognition system to Google's Web Speech API. This means that your pronunciation practice will be graded much more accurately.
Pro #3: Pay Once and you own all Learning Materials
There are no monthly subscription fees with Rocket Languages. Instead, you pay once and are granted instant, lifetime access to all learning materials. This allows you to learn at your own pace and take a break without feeling like you are losing money.
Pro #4: Looks excellent on Mobile
It's clear after using Rocket German on both desktop and mobile that the app really shines on your smart phone.
Things we DO NOT LOVE About Rocket German
Con #1: No Structure for Advancing
Rocket German allows you the freedom to learn what you want when you want. You can skip around to different sections as you see fit, and there are no required tests to advance levels. The problem with this is that you may be inclined to move on to the next level without fully mastering your current level. Obviously, this won't be as big of an issue for casual or travel learners, but those seeking fluency might struggle.
Con #1: Audio-Based Learning Doesn't Appeal to All
Because this program is mostly based on audio learning, Rocket Languages leaves out those who better learn by visual or tactile methods. It could be difficult for these learning types to keep focused and motivated to continue with the course.
Features of Rocket German
Interactive German Audio Lessons
There are hundreds of hours of podcast-style lessons over the three expertise levels. These lessons encourage you to repeat what you hear. Lessons are based around different themes and are taught by at least one native-German speaker. This ensures proper pronunciation. The instructors communicate in both English and German, and once you advance, you can choose to simply listen to and practice the German parts only.
Culture and Language Lessons
Follow up the audio lessons with culture and language lessons. These lessons give explanations of some grammar rules and cultural norms. You might discover how to politely ask for directions in Germany, or you can get a deeper understanding of noun usage with German cases. This gives you a more rounded education of the German language.
Interactive Reinforcement Activities
These activities give you a chance to break away from your standard lessons and see what you truly know in almost a game-like way. For example, practice your pronunciation with voice-recognition phrases. You will be graded on your accuracy, and we feel the recent upgrades to this technology makes this activity pretty solid. Additionally, there are flashcards and search engines for words you want to know in German. You can add any words or phrases to your flashcards for additional practice and customization.
Survival Kits and Leaderboard
Survival Kits are included with each of the levels of expertise and provide a quick reference for vocabulary and phrases you may need in certain situations including going to the bank or shopping. The leaderboard is the overall ranking of yourself against other learners. You gain points simply by studying daily and advancing through levels. This feature helps to keep users motivated to study on a daily basis.
Rocket German: Who it's For
Rocket German is an ideal program for those who are just beginning to learn to speak German. It is also an ideal supplemental program for those already taking or considering taking an in-person German course. Additionally, Rocket German is appealing and useful for the casual, travel-related speaker and the serious speaker alike.
Rocket German: Who it IS NOT For
Strong visual and tactile learners might find it hard to keep motivated with a program like Rocket German. Additionally, those who require extra feedback or assistance might be better suited for classroom learning.
Alternative Programs for Rocket German
In order to give you a fair review of the product, we did our research on some of Rocket Languages' competitors. The following will showcase some similar German courses in relation to Rocket German.
Rocket German vs. Glossika German
Glossika German is similar to Rocket German in that it focuses heavily on listening to the language being spoken and repeating it. In fact, you learn by listening to sentences, one at a time, and repeating them aloud. Each sentence you feel you've mastered is added to your account as a "rep," and will later come up again in review. Glossika offers little in the way of grammar explanations and lessons, and instead focuses on getting you speaking proper German.
Read our full Glossika Review.
Rocket German vs. GermanPod101
GermanPod101, unlike Rocket German, offers a wider array of learning materials including video and audio lessons and learning tools. It offers four monthly subscriptions with four expertise levels. Unlike Rocket Languages, once you end your subscription, you no longer have access to the learning materials.
Read our full Review of GermanPod101.
Rocket German Cost
As mentioned, there are three expertise levels of Rocket German. Each level costs $149.95, but you will receive a significant discount for purchasing all three levels together. Additionally, you can often find promo codes and coupons to further reduce the price of Rocket German. Levels can be purchased in the following ways.
Level 1 — $149.95
Levels 1 and 2 — $299.90
Levels 1, 2 and 3 — $449.85
Rocket German Review: Is it Worth It?
Overall, Rocket German is a fairly comprehensive program for those just beginning to learn to speak German or as a supplement to an in-person course. There are usually quite a few coupon codes to be found making the price point ideal for a range of students. With lifetime access, we feel this is a suitable program for beginning serious learners or casual learners alike.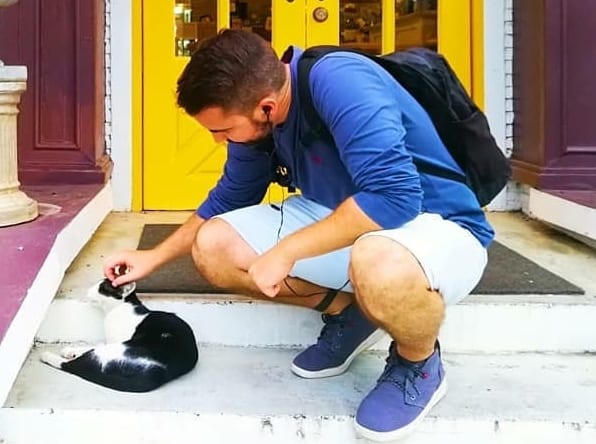 Michael has been an avid language learner and traveler for many years. His goal with LanguageTsar is to discover the most fun and effective ways to learn a language. He is currently learning Japanese, French and Indonesian.