In the video below you can see my interview with YouTube polyglot, Félix Wang, where we discuss the concept of 'leveling up' as it is applied to language learning. I had the pleasure of watching Félix in action several times in predominantly French-speaking Brussels, both before and after our video, where he 'leveled up' with the people around him in a vast range of diverse languages including Dutch, Turkish, Thai, English and Mandarin.
So what is 'leveling up' when applied to language learning?
The term 'leveling up' with respect to language learning was coined by prolific YouTube polyglot, Moses McCormick. Moses shoots videos where he approaches complete strangers and starts chatting to them. Once he makes the stranger feel comfortable with his approach, he then establishes their native language and switches into that language even if he does not only speak it fluently.
"When I'm out 'leveling up' it feels like I'm actually playing an RPG game, but in real life!"
Moses McCormick describing how he feels when he 'levels up'
The results are astounding! Beaming smiles all round …. Below you can watch this great video where Moses 'levels up' in a shopping mall in Columbus, Ohio with fellow YouTube polyglot Benny Lewis. You will see how ordinary people react to his efforts in their native tongue and how Moses and Benny are able to bond with complete strangers simply by speaking in a different language. Moses didn't even need to travel further than his local mall in order to do this. "Leveling up' is a fun and free way to practice your foreign language skills in your home country.
"Do you know what time this place closes?"
'Leveling up' fits into a multilingual travel philosophy perfectly. If you are traveling, it is even more socially normal to ask the kind of questions that Moses and Benny discussed in their second video above. When I am traveling, I take advantage of the many opportunities to interact with local people and other tourists in their native languages. In the video below, you'll see how YouTube polyglot, Jan Van der Aa and I used ten different languages on a trip through Romania, Moldova and Ukraine. This was even though only two of the languages (Romanian and Russian) are normally spoken by locals in the cities we visited.
"If you talk to a man in a language he understands, that goes to his head. If you talk to him in his language, that goes to his heart."
Nelson Mandela, Nobel Peace Prize recipient and first post-Apartheid president of South Africa
As Moses points out, once you have broken the ice and people are comfortable with you then you can ask them where they are from. Even if you only speak a little bit of the language, I encourage you to go ahead and push yourself to the next level by 'leveling up'!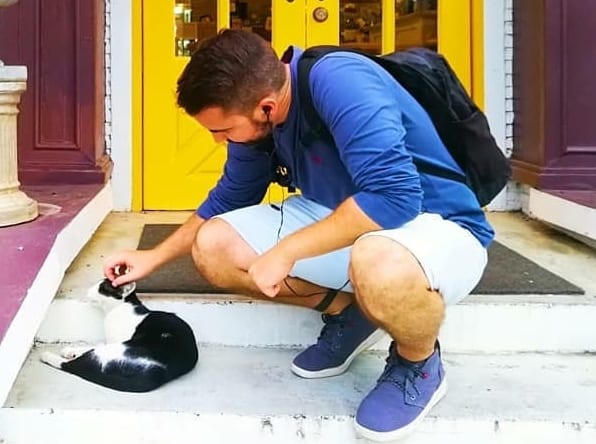 Michael has been an avid language learner and traveler for many years. His goal with LanguageTsar is to discover the most fun and effective ways to learn a language. He is currently learning Japanese, French and Indonesian.