HelloTalk is a language partner app that I recently tried out for Russian, Romanian and Ukrainian (there are more than 100 languages to select from). The app comes as freeware and also as a premium version priced at €0.99/month or €8.99/year. The premium version offers, amongst other features, unlimited translation, transliteration, transcription, chat history and increased group chat.
Now in general, I am not a fan of language exchange websites or similar app-based platforms because I found it difficult to meet people there who I was genuinely interested in speaking to. Ultimately, I ended having very basic repetitive and banal conversations. So does HelloTalk shape up compared to these other options for finding a language exchange partner?
INTERFACE
So with this app, I was able to search for language exchange partners strictly by language and also by language and geographical distance from my current location. This gave two options: 1. chat with native speakers on the app only and 2. chat with native speakers on the app who I could then meet in person if we both wanted to.
I was trying out the app when in Brussels, Belgium so I didn't start a conversation with anyone that was close enough to to meet up with. I did however start around a hundred conversations in Russian, Romanian and Ukrainian with native speakers, as well as, as several other users of the app writing to me in English.
Of those approximately 100 conversations, I had perhaps a dozen that were in some way reasonably interactive and perhaps 3 or 4 were interesting and continued over several days. While typing "Hi! What's up?" doesn't take more than a few seconds, it's a pity that most users don't complete a more detailed biography so that I could have more targeted about the language partners and the topics we chatted about.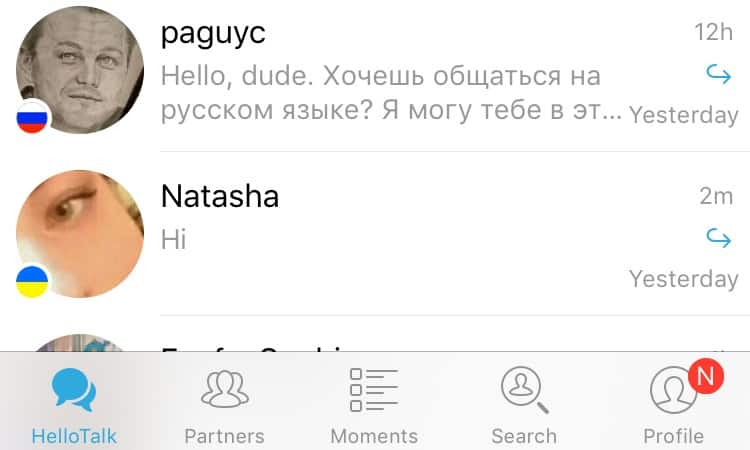 FUNCTIONALITY
Now onto the functionality of the interface. The app has some really cool features that I really found useful. These includes a two-way dictionary, voice messages, call feature and highlighted corrections (when made by you or your language partner). In short, the app has the same integrated features as Whatsapp and Facebook chat but includes many useful language learner add-ons.
I have read online that earlier versions of the app had many bugs and the app would crash frequently. I didn't have any such problems personally so my guess is that for now those problems seem to have been solved.
STRENGTHS
1. Live chat with native speakers – with HelloTalk you speak the language with native speakers and this is obviously particularly good if this is difficult to find in your area. However, the normal caveat applies with respect to language exchanges in general – it's hard to find people that you are genuinely interested in conversing with if the only criterion is 'languages spoken'.
Another caveat is that many users registered as being 'English-speakers' are often not at all. Several (female) users commented to me that this is an annoyance when looking for language partners in English and that many (male) users are using the app for other purposes (here read: "dating app"). The app features a popup message reminding users that HelloTalk is strictly not a dating app. However, this does not seem to have been a complete deterrence to this nuisance.
2. Corrections by native speakers – the integrated correction feature is particularly useful during the conversations. This allows you or your partner to highlight each other's mistakes easily.
3. Time utilization – the app is a useful time filler when if you are waiting around, like for 10 minutes on a bus – with HelloTalk you can chat to someone perhaps on a similar commute on the each side of the world in their language.
WEAKNESS
1. The typical reservation I have about language exchanges – they are free in terms of money but not in terms of time but are useful if done effectively – requiring more bio info and adding more search criteria would make it easier to find partners that are a more suitable match.
2. No video chat option – this would be a useful addition to the app for communication and cultural exchange (people across the world would be able to show where they are and what they are doing in real time as you chat).
3. Limited database of active users (where I tested the app) – there didn't seem to be so many people close to me using the app (in Brussels, Belgium) so if you want to meet up in person then that seems a little limited depending on where you live for the moment.
CONCLUSION
I think that HelloTalk is really worth downloading if you are looking to chat with native speakers in your target language. It exceeded my expectations in terms of functionality for a language exchange app. The freemium version has great functionality so it's a good place to start looking for a language partner.
If the app develops features that would allow you to select your language partners with more accuracy then I think it could develop into an essential language learning app. More information on the app is available at www.HelloTalk.com.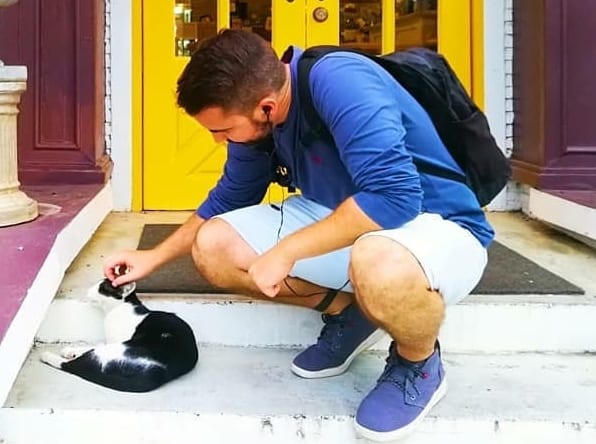 Michael has been an avid language learner and traveler for many years. His goal with LanguageTsar is to discover the most fun and effective ways to learn a language. He is currently learning Japanese, French and Indonesian.