FluentU is a new website and iPhone app that offers a platform where you can access video clips in your target language based on your level in the language with double subtitles (target language and English).
FluentU comes both in freemium and 2 premium versions (US$8 or US$18/month). At the moment, the following languages are available English, French, Spanish, German, Chinese and Japanese.
I tried out Spanish on the desktop and German on the iPhone app. So was FluentU's content able to keep my interest and teach me some Spanish and German?
THE METHOD
FluentU first asks you to select your level in the language so that it can filter the content you receive in your feed. As I already speak Spanish and German so I selected the "advanced" and "native" levels so the video clips I watched were about the same difficulty as what I normally watch on TV. You can easily skip between the sections of the video clip which is like having an 'instant reply' button in case you missed something the first time around.
Basically, FluentU provides you with video content from YouTube, and matches your level in the target language. There is also a 'learn' feature for each video that trains you to understand the vocabulary that might be tricker for you in the video you are about to watch. Finally, the platform also allows you the send new words to a 'flashcard' collection for later review.
STRENGTHS
Real content for native speakers by native speakers at your level – the videos are not scripted for learners so are more realistic and natural. The fact that the videos are tailored to your level solves the major real world problem of finding the right content for you in terms of difficulty.
Double subtitling – superb feature! You can listen, watch and read the video all at the same time so failure to understand is no longer a risk.
Bock Bier? That title also piqued my interest :)
Time utilization – as FluentU has a smartphone app and the videos are generally one to two minutes long, it's perfect to stream a couple of videos when you have 5 or 10 minutes to kill. You can also download the videos to your phone beforehand in case you are going to be somewhere with no connectivity (e.g. an airplane).
FluentU also includes a feature that helps you learn key vocabulary from each video
WEAKNESS
Limited content – the video library while big is not enormous at the moment and as you can't filter by interest then interesting new content is not always so obvious.
Limited functionality – while the app has features for teaching vocabulary directly before the videos and via flashcards after the watching the videos, FluentU is narrow in its scope – it provides you with video content and doesn't approach directly other features of language learning like pronunciation and grammar.
CONCLUSION
So would I recommend using FluentU?
FluentU is great at what it aims to do – send you video content in your target language at your level along with double subtitling. The interface is user-friendly and aesthetically pleasant. I found it filtered enough interesting content to me that I remained motivated to open the app time after time. It could be improved to include a wider library and other filters for content but overall I really recommend the app as part of your language learning repertoire.
You can try out FluentU for yourself by clicking the banner below!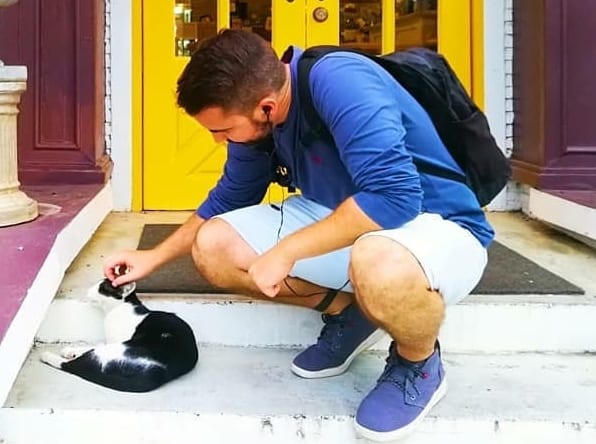 Michael has been an avid language learner and traveler for many years. His goal with LanguageTsar is to discover the most fun and effective ways to learn a language. He is currently learning Japanese, French and Indonesian.