Nederlands is de officiële taal van Nederland en is één van de 3 officiële talen in België (samen met Frans en Duits). In België is het de overheersende taal van het noordelijke gebied "Vlaanderen".
Ik heb in het verleden zelf 1 jaar in Nederland gewoond (Utrecht) en vervolgens heb ik ook nog 5 jaar in het tweetalige Brussel gewoond. Nederlands en Vlaams zijn twee duidelijk te onderscheiden regionale variaties van dezelfde taal. In dit artikel omschrijf ik de belangrijkste verschillen die mij opvielen tussen deze twee variaties.
1. UITSPRAAK
De uitspraak van het Nederlands en Vlaams verschillen. De "G" bijvoorbeeld, heeft sterke keelklank in Nederland, terwijl deze in Vlaanderen veel zachter wordt uitgesproken. Ook de "V" komt dichter in de buurt van een "F" klank in België, waardoor de uitdrukking "even kijken" heel anders wordt uitgesproken in het Vlaams (wordt "effe kèke" in het Vlaams).
In deze video bespreken wij een aantal voordelen die je als buitenlander kunt hebben in Nederland, als je de Nederlandse taal spreekt
2. Intonatie
De intonatie van het Vlaams is melodieuzer dan in Nederland. In het Nederlands spreekt men met weinig melodie en de intonatie gaat vaak omlaag het einde van de zin. Het Vlaams klinkt veel zachter en vaak wordt de intonatie aan het einde van een zin verhoogd.
3. Het informele Nederlands
Het gebruik van het formele "U" klinkt in veel informele situaties ouderwets in Nederland en de meeste Nederlanders gebruiken dan ook eerder het informele "je/jij" met vreemden (afhankelijk van de leeftijd van de gene tegen wie je praat). In Vlaanderen wordt "U" echter nog steeds gebruikt in informele situaties. "Je" wordt vaak door presentatoren op TV of radio gebruikt, of door ouders om met hun kinderen te spreken, maar zou een beetje vreemd voor alledaagse gesprekken zijn. Voor een Nederlander klinkt het Vlaams ouderwets, terwijl voor de Vlamingen het Nederlands soms juist een beetje onbeschoft klinkt.
4. "Jij" v "Gij"
In Vlaanderen wordt het informele "jij" vaak uitgesproken als "gij". Dit is ook heel gebruikelijk in het zuiden van Nederland (Brabant), maar in Amsterdam of Rotterdam zou dit vreemd klinken.
5. Woordenschat
Er is sterke Franse invloed in de Vlaamse vocabulaire, omdat België een drietalig land is met een grote minderheid Franstaligen. Bijvoorbeeld een "Garagepoort" in het Vlaams, is een "Garagedeur" in het Nederlands. "Porte" is het Franse woord voor "deur". "Confituur" is de Vlaamse woord voor "jam", net als in het Frans, daar zegt men "confiture". De Nederlanders noemen dit "jam", net als in het Engels. Andere verschillen in de woordenschat zijn (Vlaamse versie eerst): "bankkaart" vs "pinpas", "batterij" vs "accu" en "Droogkuis" vs "Stomerij".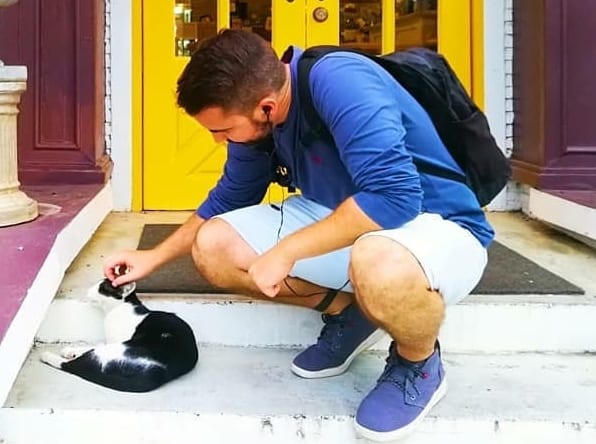 Michael has been an avid language learner and traveler for many years. His goal with LanguageTsar is to discover the most fun and effective ways to learn a language. He is currently learning Japanese, French and Indonesian.